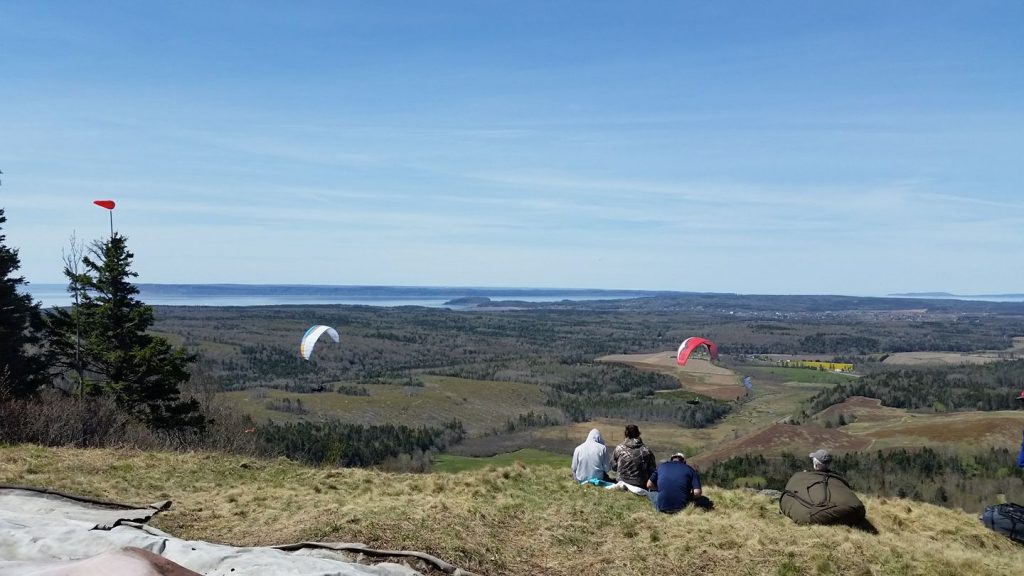 RULES OF ACCESS
4×4 access only ( no tire spinning)
If a 4WD vehicle is being parked, please park away from the camp site and do not walk near the campsite.  (trailer may or may not be present)
Group drive ups to reduce number of vehicles
Drop off pilots and equipment (if possible).  This is preferred over parking.
Parking and walking to launch only where designated by owner. The foot path to launch is marked with flagging tape. Please stick to this trail as closely as possible.
| | |
| --- | --- |
| Site Status: | Open |
| Site Name: | Hidden Falls |
| Location: | 5 km east of Parrsboro |
| Province: | Nova Scotia |
| | |
| Suitable for Hang Gliding: | Yes |
| Suitable for Paragliding: | Yes |
| | |
| Regulating Body: | HPAAC |
| Site Regulation: | |
| | |
| HPAC Rating: | Novice |
| Type of Site: | Coastal, Hill |
| Type of Flying: | Ridge and Thermal |
| XC Potential: | Fair |
| | |
| Description of Site: | |
| | |
| Direction of Launch: | WSW |
| Launch Elevation: | 700′ asl, LZ: 60′ asl |
| Launch GPS Location: | |
| Launch Description: | Walking trail must be used to get to launch. Slot facing wsw. The launch is 60′ wide and 40′ deep, basically flat and smooth. The slot extends in front of launch 100 ft. Initial vertical drop of 12 ft then 45 degree slope. Stunted hardwoods to either side of launch. Top landing is very condition dependant for PGs, not recommended for HGs. |
| Launch Site Rating: | |
| Transportation: | |
| Specific Hazards: | |
| Tips and Hints: | |
| | |
| Landing Zone Elevation: | |
| Landing Zone GPS: | |
| LZ Description: | LZ for both HG and PG is open field. |
| LZ Site Rating: | |
| Transportation: | |
| Specific Hazards: | The site should not be flown in a southerly flow by student or novice pilots as there is a ridge up wind that can throw off nasty stuff in the LZ |
| Tips and Hints: | |
| | |
| Site Fee: | |
| | |
| Local Contact 1: | PG: Michael Fuller.Tel. 902-254-2972 or 254-3788 |
| Local Contact 2: | PG: Brian Wheaton.Tel. 902 254-2583 |
| | |
| | |
| Seasonal Flying Potential: None (0), Rare (1), Low (2), Good (3), Excellent (4) | |
| Spring: | 3 |
| Summer: | 4 |
| Fall: | 3 |
| Winter: | 1 |
| | |
| Recommended Ratings | |
| Mild Conditions: | Novice |
| Moderate Conditions: | Novice |
| Strong Conditions: | Intermediate |
| | |
| Special Skills Required: | |
| | |
| | |
| Other Notes: | |
| Radio Frequency: | HPAAC: 173.640 Mhz |
| | |
| Reviewed: | July 29, 2019 |