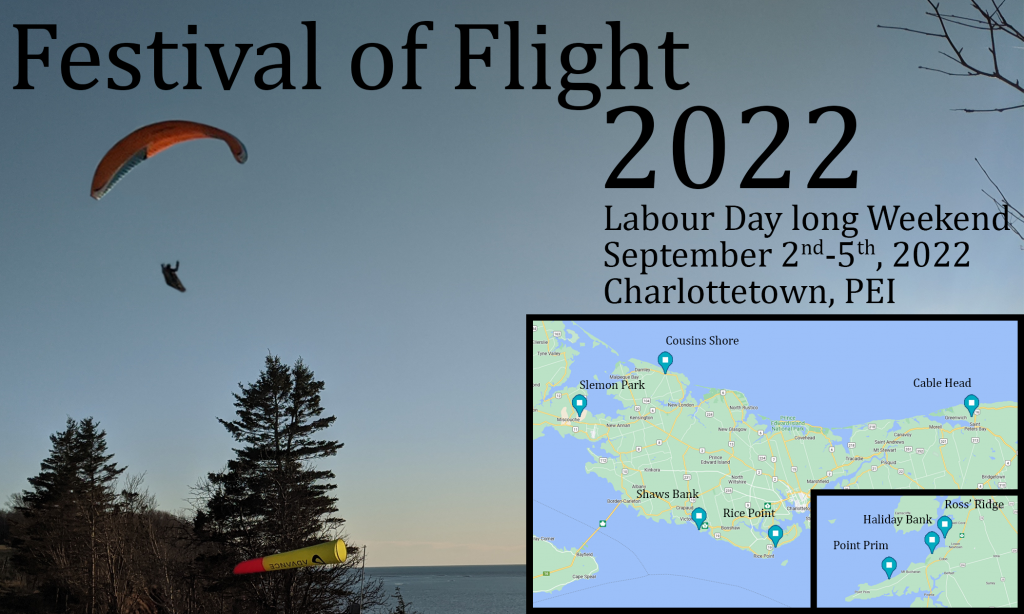 Happy Spring to you all!  We hope that you have had a chance to get some flying in over the winter.  If not, you won't have to wait much longer – spring is practically upon us!
HPAAC Exec discussed the spring 2022 Festival of Flight and the consensus is, since we are still experiencing some COVID-related issues this year, we have opted to postpone the Festival to the end of the summer flying season this year.
The 2022 Festival of Flight will be held on Labour Day long weekend, (Friday, September 2, to Monday, September 5).
In addition to the change of date, the 2022 Festival of Flight will be held in PEI this year!
Many benefits of a PEI Festival include:
Our sites are actively maintained
Our 3 primary flying sites are located around Point Prim/Orwell area (25 minutes from Charlottetown – between where the NS Ferry in Caribou lands on PEI at Wood Islands and Charlottetown).  These sites take a variety of wind directions (NW, N, and W).
Possibility of tow launching at Cable Head Flight Park and Summerside Airport.  (Need a winch and operator)
The launch site at Cousins Shore (N-NE wind) – requires a good briefing prior to flying.
Launches from some small cliff sites with South and SW-SE winds (these sites are typically quite small sections of cliffs, beach landings are possible at low tide)
A wide variety of accommodations are available, ie. Campgrounds, Cottages, B&B's hotels, motels
Tons of restaurants with a wide variety of food and price point.  Great grocery shopping available.
We have active PG pilots here, even some ultralight pilots and PPG pilots too.  (My neighbor is an ultralight pilot and I know a couple of active PPG pilots here. We could invite them in as guests to participate and/or simply hang out with other like-minded people who have a passion for flight of any brand).
If the wind is too strong/too weak for flying, there is no shortage of things to do:
there is a good chance of kiteboarding (south shore, north shore sites) if winds are too strong for flying.
Golfing
Beaches
Hikes and biking mountain biking trails, or the tamer rails to trails system (from tip to tip)
Restaurants, Pubs
Museums and Heritage, Parks
We are open to any suggestions for activities anyone would like to offer – just let me know.  We will be planning the Festival details very soon. More to come as we get things together!